Lots Area: Site B:
lot 5: 2,500 square meters
lot 6: 2,609 square meters
lot 7: 2,333 square meters
lot 8: 2,288 square meters
Remanent: 37,488 square meters
Description: These lots in PR-413 (the road of Happiness) has the beach front of Tres Palmas a natural reserve of corals with variety of fish in the south of the Island of Puerto Rico. This beach is for enjoying kayaks, swimming, snorkeling and diving.
Surfing made Rincón famous but Rincón has many other attractions like whale-watching escaping from the northern winters, paddle boarding, horseback riding, deep-sea fishing, sailing, mountain biking and unforgettable sunsets. Rincón is the place to construct your dream home.
Rincón Landmarks: Domes Beach (1968 Surfing Championship), Marias Beach, Steps Beach, Lighthouse, Balneario de Rincón, Bonus Nuclear Plant, Tres Palmas Coral Reef Reserve, Surf Town, The Spanish Wall, Rincón Skate Park (indoor SK8 street), Tamboo Beside the Pointe and Culo Prieto (Popular Farm).
Selling Price: $485 per square meter or best offer
Call, text or email now 787-448-6300 for this unique opportunity to purchase a beach front lot in the Road of Happiness PR-413 km 2.00-3.7, Rincón, Puerto Rico a natural beach front reserve of corals called Tres Palmas Beach for your dream beach home!                                                                                                                              Cooperating Broker: Mercy Zayas (Lister Patricia Mercado)
Additional details
Public Transportation: -
Neighborhood: -
Air Quality: -
Floor Plan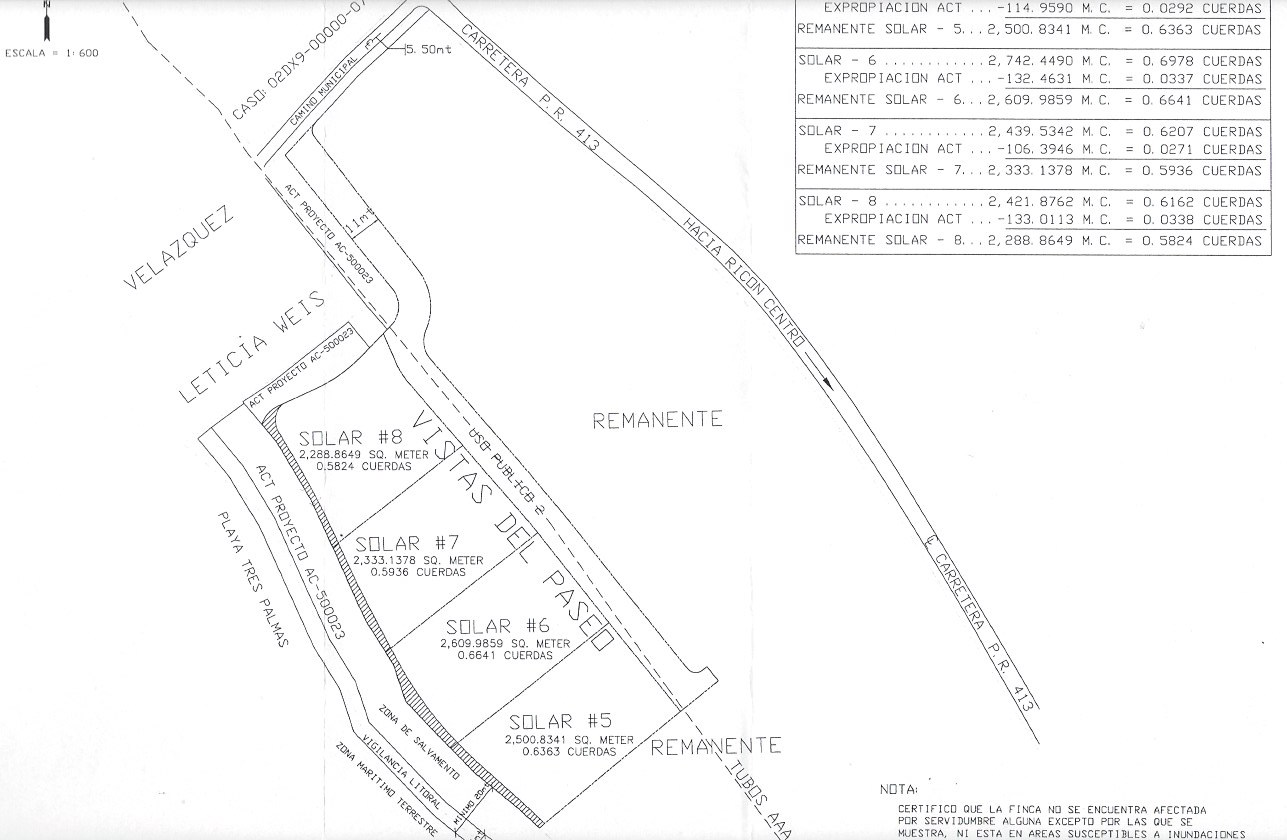 Location
Puerto Rico 413, Rincon 00602, Puerto Rico